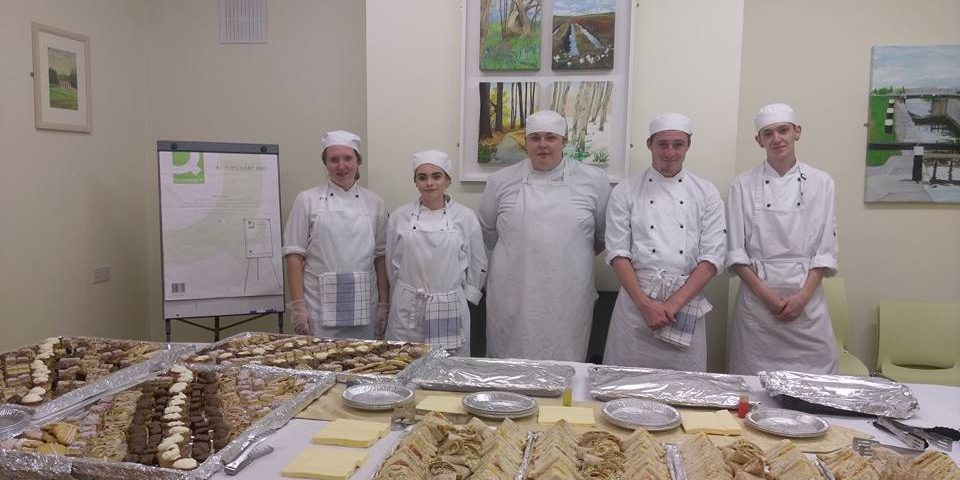 Our Experience in Tullamore Community Training Centre
Chloe and I started in the summer of 2017. We began our journey in the catering section. This involves running a cafe which is open to the public. We also do a various range of courses such as team work, short order cooking, meal service, kitchen skills, IT skills, work experience, personal effectiveness, customer service and communications. We complete these courses through folder work and assessments; this is how we gain our QQI level 4 major award in Catering studies.
From our time being here we've met loads of people from tutors to fellow learners and people from catering events; such as Lannelo, Offaly County Council, Rehab Care, Irish Wheelchair Association and Charleville Community Centre. We really enjoy catering in different establishments for these events. It gives us such a great knowledge of what being a chef is like and also all the hard work that comes with it!
In this course we get various opportunities for work experience. Our tutors Maz and Willie play a big role in helping us get our work experience and are always here for us. So far we have both went to Cafe 4 U in the Bridge Centre in Tullamore, which is an extremely busy cafe. We worked here for two days a week for five weeks. Brendan, Pat and Pauline worked really close with us. It was an amazing experience and we learned so many skills.
We have helped in numerous projects in the centre such as our beautiful garden which we worked so hard on here in the centre. We painted and decorated the walls and we planted fruit, vegetables and herbs which we can now serve in our cafe. We have beautiful trees and flowers growing in our garden and all around the centre.
There is also a Student Advocacy Community here in the centre which has a massive say in what goes on in this centre. In the committee have meetings every week and organise different things that would help the centre such as making the garden for all the learners to enjoy. We also went to a trip to Vodafone headquarters in Dublin.
We go on several trips a year to reward our hard work like bay sports, the cinema, VR party, Lough Boora, Go Quest, bowling, Charleville Castle, Howth Harbour, Footgolf, ice-skating and many more. We also do educational trips to open days in colleges including Moate, Athlone IT, Portlaoise and Garycastle training centre. This gives us a good insight into what we want to do when we leave this centre.
Speakers and workshops often come in and work with us. For example 'Hey Pesto' came in and showed the catering learners how she makes her very successful Canapés, Jigsaw came in and had a workshop on mental health in young people and Kirsty Reel had a workshop to help us gain confidence.
There is also a programme called NFTE – Network For Teaching Entrepreneurship. This is where a very helpful lady called Claire helps certain learners to set p their own business. Katelyn took part in this and set up her own business called 'Katelyn's Creation' which is Nutritious energy bars that were very successful. They were sold in 5 local shops in Tullamore and also made it to the all Ireland Final.
To round it all up we both have had a fantastic experience here in the CTC. We gained so much confidence and so many friends and memories that will last a lifetime. We would like to thank all the lovely tutors who help us so much on our journey in this centre.
By Katelyn Casey & Chloe Bergin Keller
SIGN UP TO OUR NEWSLETTER
Subscribe now and receive weekly newsletter with educational materials, new courses, interesting posts, popular books and much more